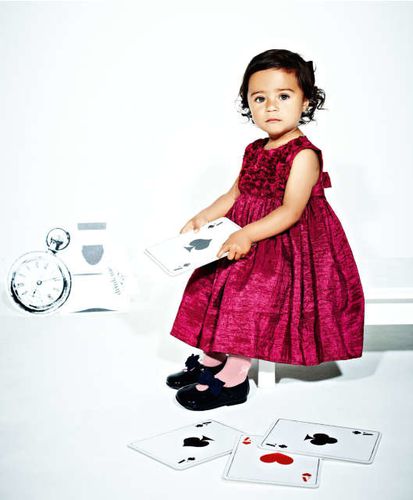 I have to be careful if I don't want my adult's blog to turn into a baby's blog, but for the time being, my daughter being only 26 days old, she tends to be my only preoccupation.
While I'm still trying to figure out how to dress my shrinking bizarre postnatal figure, baby hasn't been having any problems at all! Actually seems like people loooove buying clothes for the small ones, and even better, gifting them to me!
I considering I love playing doll... Like this pretty number from Mamas and Papas, a magenta rose themed organza dress, how cute is that? Or the pretty little Berlingot dress my parents got her as a Christmas attire.. to be worn with black little leggings!
Today she's wearing purple, tomorrow pink, after tomorrow a cute beige ensemble with a matching hat. Where does the fun end? Until she's teenager I guess, then I will no longer have my word...
In the meantime gotta go, she's waking up! More news soon...