Make Up Treasures from the Far East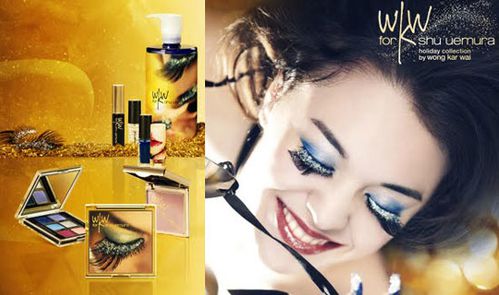 If you refer to some previous posts on this blog, you'll probably come accross some words on Korean movie genius Wong Kar Wai.. Ahhh, In the Mood for Love, 2046, and My Blueberry Nights, only to cite a couple of the film maker's beautiful aesthetic and eye. Women are almost always sublimated as an strong characters, sophisticated personas with incredibly feminine and affirmated looks.
What about Shu Uemura? Best known for their cleansing oils, the brand now fallen under the control of the L'Oreal Group is all about fancy colors, sophisticated make up and quality buys.
Combine both, and you get a fabulously artsy holiday collection! I love the bold and daring palettes, Inspired by Burning in Water, Drowning in Flames poem by Charles Bukowsky. Blues, reds and sparkles, a collection more related to art than to make up. One's face becomes the canvas for expression, only for the daring ones!
Unfortunately Shu Uemura make up is hard to find in Dubai. Your best bet is traveling friends through Duty free, or yet again, online ordering... Good luck treasure hunting!