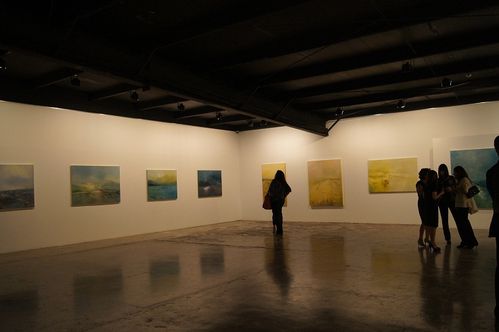 For most people here, living in Dubai unfortunately rhymes with high end shopping malls, beaches, and pretty much going back and fourth between the Dubai mall and JBR. Many of those I've met consider they know this place after 5 months living here, and go on about how bored they are, and they have never even walked around the souks in Bastakiya...
I for one, do not believe that this is all you can get here, and for sure, UAE based artist Nabil F. Safwat shares that view.
OK, I'm warning you, I'll begin to sound like a touristy brochure (call me Lonely Planet!) any moment now. But basically, my point is, we never observe things around us. We live in a resort, with sandy beaches, beautfiul palm trees and never even seem to notice that.
Go away for a three hour drive and you reach the crazy overwhelming brut nature of Khasab. Drive in another direction, and the red sands of the Sharjah desert hit you with their fiery fields. And what about the Hajjar mountains? Or just the sunset here on surfer beach on Jumeirah road...
All it takes is an observant eye and an open mind to see it, and a bit of talent to immortalize it on canvas! (OK, ... a LOT of talent!!)
The work of Nabil Safwat is currently being displayed in the Courtyard, in Al Quoz, offering an insightful eye opener on the beauty of the landscapes in UAE. I find the whole work is somewhere between contemporary impressionism and Turner with the light games.
Check it out! It's on until November 5th, if just to look at the place we call home with a different eye.