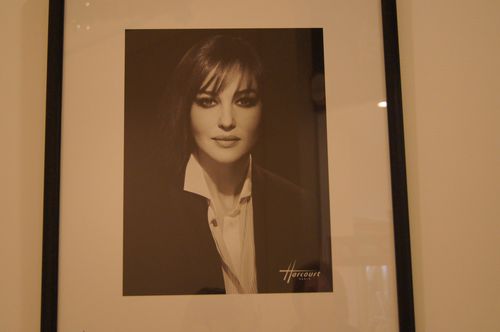 Yesterday, o miracle! I left baby girl with he daddy and I had a full 2 HOURS to myself! Lucky me there was the launch of a photography exhibition at Wafi shopping mall, brought to us by the wonderful and wordly renounded school of design and fashion ESMOD.
Have you heard of Studio Harcourt in Paris? well... if you haven't, then chances are you are not part of the Rich and Famous of this world! (euh.. rest assure me neither... )! Anyone who's someone has had at one point a portrait made by the famous parisian studio, with their trademark Black and White portrait matching the character of the fashion, cinema or sports persona.
A few of the portraits are currently being exhibited in Wafi, out of which a very impressive picture of John Galliano, and my personal favourite, beautiful Monica Bellucci pictured above. This gives you a taste of what to expect, so make your way to Wafi and on the way back, you can always buy fresh olives from Wafi Gourmet!