No One Knows about Persian Cats
Now I do.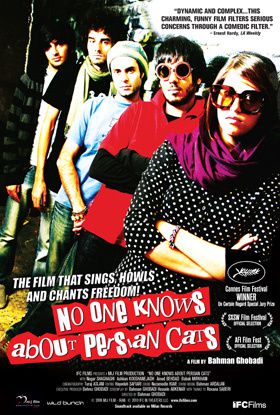 When you think of Iran, music is not the exactly the first thing that comes to mind. If you are talking Coranic verses and traditional chants, then yes, but we are not exactly in the world of Rock n' Roll here. No? Think again…
The roots of Rock begin with a rebellion against 'The Man' (you know.. he who controls it all…). Today in most it seems rock has remained, rebellion, not so sure.
That is without taking into play the most comprehensive musical documentary since Buena Vista Social Club...
In Iran, playing music, singing, producing a cultural project without a State permit is illegal. And you risk big: jail, physical punishment, money... Bahman Ghobadi knows that and wants to show the world that the music scene in Iran still strives to exist despite the never ending bans.
After 17 days of a risky film shooting with real musicians, an illegal camera, and 2 visits to jail, he has succeeded in bringing to life a film which screams freedom, in the most hidden corner of Tehran.
We follow Ashkan and Negar, and Indie Rock couple freshly out of jail as they strole around the City, hoping to acquire a passport that will lead them toLondon where they will finally be able to perform. On the way, we meet a struggling metal band, a Hip Hop group and an amazing underground rock n' roll band, all the while listening to a fabulous sound track that has nothing to envy to the British music scene.
Watch this film.
An act of rebellion such as this one needs to be supported and the more people see it, the more it shows to those who want to control Man through laws and fear in the name of anything, be it religion, war against terrorism or economic danger that Man has Free Will, and that,can not be destroyed no matter how hard you try.