My Fashion Obsession: Orange, Camel and Sunny Hues...
I love love love Olivia Palermo's orangy tweedy camelly sophisticated boyish yet feminine look. She looks so classy!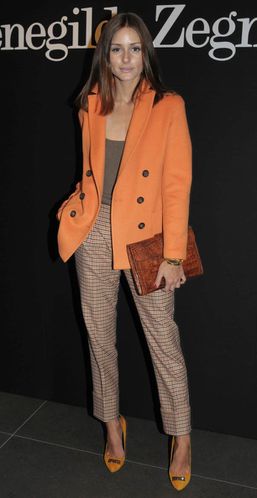 The choice of Burnt Orange, with tweed, yellow heels and a Caramel leather vintagy clutch is just the epitamy of taste...
The combination of those complementary colors really suits her, and gives a warmer, rounder look than the blacks and greay we have been getting used to the past few years. So how can we comon mortals pull this off? Simple, it's all about leather accessoris: a brown shoulder bag complements any look, or a pair of yellow flats can do good to a classic dark grey outfit... avoid black though, at the risk of falling into the 'bee' look... too much contrast...
The good thing about these hues also is that they also look great on ... men! I love camel leather shoes, vintage work bags, and belts... Combined with a burnt orange sweeter and blue grey pants, you have to admit it looks kind of hot.. You don't believe me? Try it!