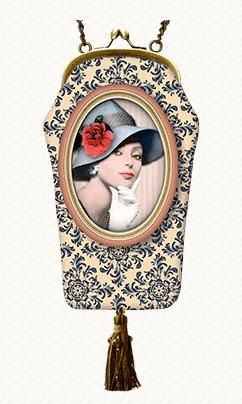 Oh My God! Finally Overblog is working again! I have had so much trouble connecting, I was litterally unable to access my own account! But now things are back on track and I'm back with energy!
My friend from work Catherine looooves shopping. And she has an eye for finding new cool things, like these cute vintagy little pouches and wallets from Boom & Mellow. (I give her full credit for that one!!!)
Actually, I love that store, they always have interesting innovative designer brands and cool little secrets you feel like you're the only one to have.
Today's discovery is brand 'Les Cakes de Bertrand'. Zo French! I leuve it!!!
It actually all started as .. a Cake store! In Paris that is. Didier Bertrand is a nutritionist with a natch for Elegant Gourmand, and a sweet tooth for violet candy and chocolate bars... Inspired by the French Grandmother's chocolate boxes and vintagy ambiance, the a la carte menu slowly started enriching with nice wallets, Minaudieres, accessories, to complement the chocolate shopper. Unfortunately for us here in Dubai, we can't get the cakes, but we can still droole over the cute necklaces!!
Check out the website for more info:
http://www.lescakesdebertrand.com/