H&M + Lanvin: Thank You Alber!!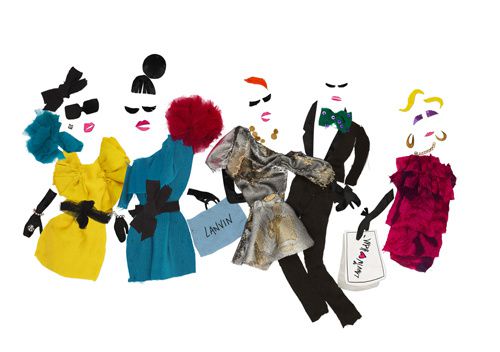 OK. I'm in a Trance. I am totally loving this and counting the days until November 23rd! This beautiful illustration you see is just an avant gout of what is going to hit us in the face once Lanvin's collection for H&M hits the street!
As much as I was not convinced by Sonia Rykiel's collection, I am totally in love with the key pieces presented by Alber Elbaz for the Lanvin collection. Dresses, a couture skirt decliend in off-white and black, fabulous froufrou cuts, all in the respect of the Lanvin codes! Classy smoking for men, return to true fifties chic... Sophistication umatched since a long time, even with the edgy choice of model Irina Lazareanu as the face of this collection!
Well done for this collaboration, Chapeau Bas as they say in French! I don't usually get this kind of reaction, but this has unleashed the shopping warrior in me! Watch out for furious Djinni! November 23rd 8 am, I will be hitting the closest H&M store with my coffee thermos hoping to get my hands on the particular look pictured below... That would be perfect for upcoming New Year's eve! Wish me luck!