Eid Cruisin' the Dubai Mall.
Oh how I love the Eid vacation... Break; family, good food, and festive season for all my friends...
My brother is here visiting with my aunt from Syria, so we decided to take them around to the Dubai Mall. Nice place; the Dubai Mall. Although veeery crowded for Eid!
The biggest mall in the world would deserve a full story, but this can not be done in one article. 44,000 squares; 1200 stores, a temple of consumption for the pleasure of entertainment... From the jewellery area to the fashion avenue and its lush thick carpets... the aquarium with Candilicious and the awesome chocolate square on the way to the Dubai Fountain (my personal favourite treat being a Rosace Chocolate at the Moka Godiva Store...hummm... all is there to wow your eyes and whiff you into a shopping frenzy!!
Here is one of the nice windows that caught my eye, the Lanvin Boutique in the Fashion Avenue...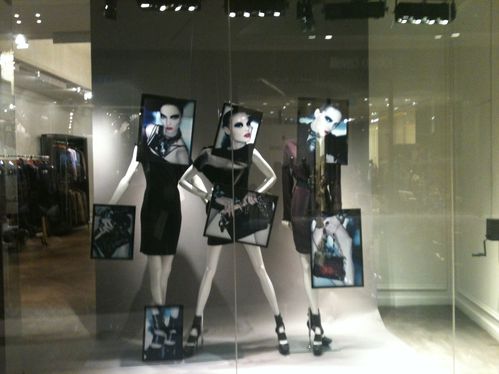 So, 4 hours and 2 Max Azria dresses later; I ended up leaving this place, my eyes full of ideas, and waiting to go back there again, this time to the Galleries Lafayette for some French Niche Fashion!
Until then, Eid Mubarak to everyone!