Effortless Chic in Stella Gray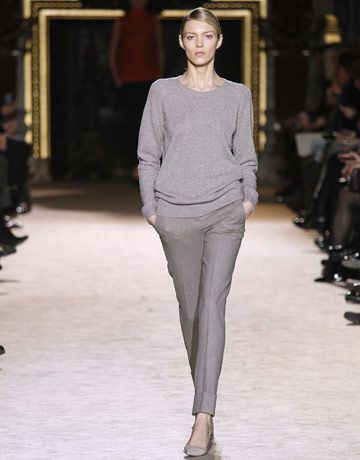 Believe it or not, it;s actually getting cold in Dubai! I mean in the evening, at the Beach,
you can no longer walk around with the regular Hippie dress and open toed leathers... Behold Ladies... Winter has come!
Of course, we can not imagine full on coats with fur linings and wool scarves, but still, let's face it, sandal days are over.
In the UAE, Winter is all about balancing the hot days with the cool evenings, a=nd going for a mid season's look.
What better way to achieve the perfectly adapted look than the head to toe Gray palette Stella McCartney so cleverly put together on the runway!
Gray: more wearable than White, more statement than Black, sober, elegant easliy accessorizable.. I like!
For my part, as an office outfit, I chose to invest in a pair of shiny gray Mango corduroy skinnies, and matched it with a loose greige top. And for night, go for a gray satin skirt with a light mohair or cashmere sweater.. And for the more daring ones, how about gray combination trousers? A bit of confidence, sprinkled with a touch of imagination, and we are set to go!