A Night at the Auction - Christie's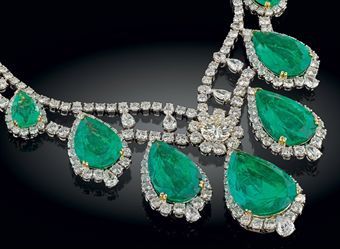 Some of the wonderful things about living in Dubai, is the fact that you get access to things that in the rest of the world you can only dream of.
In this case, my mom had invitations to the Cocktail preceding the upcoming Christie's auction. Do I want to go? Like, yes!!!
Imagine a concentration of the latest contemporary Middle Eastern art all exposed in the grand Godolphin ballroom at Emirates Towers, beautiful people, Champagne a flot…
And to top it all, of course, they were exposing the watches and jewellery that is going to be auctioned on Wednesday… The collection of a Saudi Princess, straight out of the 1001 Nights!
So where do things get a little crazy? In Europe, you can only look and visually assess. In Dubai, you can actually try the pieces on! When I found out, I tried on a beautiful pair of diamond and Sapphire Pendant earrings, as well as a Diamond Bracelet
estimated to a mere 180,000 dollars ! Hum… I could get to like this!
In the meantime a friend of ours is actually bidding on a Diamond/Emerald Parure… So definitely see you at the Auction on Wednesday!