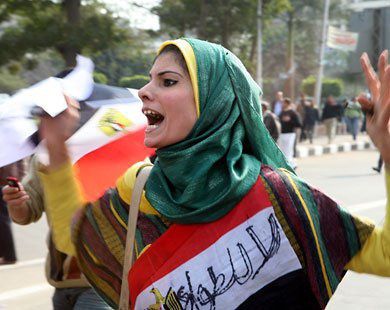 All over the news, all over TV, Radio all you hear is Egypt. The story of a people taking its destiny in hand.
I believe in the Egyptian movement, spontaneous. There will be pain, there will be fear, there will be even stealing and looting, but it's too late, it has begun, there is no turning back now./
My support goes to all of you men, and women out there, with families to feed, children to grow, lower class, middle classe upper class, young and old, copts, muslims, each and every one of you.
They talk of looting, they talk of insecurity, crime, but let us not mistake this for what it is not. This is first and foremost a movement of the people. And to the people it belongs.
I trust Egypt to build a future for itself, a different future. I trust that the country is wise enough not to fall in the extreme of Muslim brotherhood, but to include all its factions, parties and thinking minds into a new Egypt.
My final thought goes to all the women of Egypt: I believe in you to build the future of Egypt with your strenght, your wisdom and you smiles. Hail Ladies of the free arab world, I salute you.